Getting to Know the New IB Coordinator
The International Baccalaureate (IB) program is a two-year educational program founded to provide students from around the world access to a rigorous education that will prepare them for higher-level schooling. The IB program has been active in St. Petersburg High School since 1983 and, in its duration, has been led by many different coordinators. This 2022-23 school year, the IB program welcomes a new coordinator, Ms. Kaur Barrett. To greet our new coordinator and better understand her methods as an educator, our Palmetto & Pine journalists conducted an interview with Ms. Barrett.
Ms. Barrett has been teaching since 2009 and her job has led her around the world; she has taught in South Florida, Hawaii, Tampa, Korea, and Pinellas County. She says that, by teaching in such different places, she has been able to "meet and adopt teaching methods from the best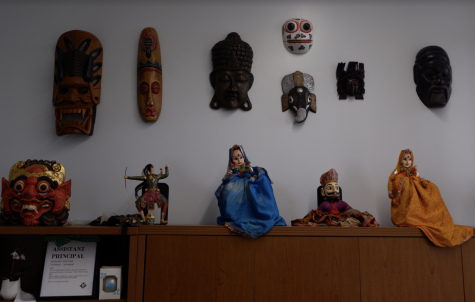 teachers in the world." As an educator, Ms. Barrett's philosophy revolves around the idea that "all kids can learn" and that "learning is not just what students are taught in school."
Ms. Barrett states that what motivated her to take this job is her want for a "leadership role" and her appreciation for all things "behind-the-scenes." As a leader, Ms. Barrett wants to make teachers' jobs easier, thus enabling them to be better instructors for their students. The IB program is well-known for the mass amounts of stress and work experienced by its students, a factor that makes the IB program, in Ms. Barrett's words, "all work and no play." As the coordinator, Ms. Barrett will work to reduce stress levels surrounding the program, as well as promote unity and fun amongst its participants. Specifically, she would like to "have more mental health breaks" and has begun a new program in which students are awarded student of the month in accordance with the 10 different IB learner profile traits. This new program's purpose is to "provide students with positive feedback from their teachers and improve mental health."
Ms. Barrett wants students to know that she is "very approachable" and that they should not hesitate to come to her with any issues or questions. Ms. Barrett states that she is "very excited to take on this role and grow and diversify the program." Many IB students at St. Pete High look forward to experiencing how Ms. Barrett's new policies and ideas improve the program.
Leave a Comment