Mr. Powell leaves St. Pete High after 25 years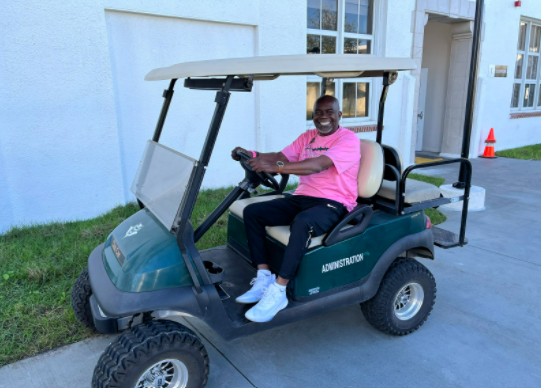 Kenny Powell, campus monitor of Saint Petersburg High School, is retiring in February after 25 years at the school. The news has spread slowly throughout the school, and his retirement has shocked many. Throughout the 25 years he was here, Mr. Powell has connected with thousands of students, and his reputation grew to one of urban legend. Ms. Lebo describes him as an "institution", "compassionate" "caring" and "always willing to help". Teachers equate him to being the "face" of St. Petersburg High, and his passion for the school and specifically its sports was described by athletes as "unmatched". In an interview with Travis Brackin, Mr. Powell describes first coming to St. Pete, his time and work at the school, why he is so committed to the school, and why now is the time to go. Students and teachers are all sharing their thoughts on Mr. Powell, and ideas for remembering his time here are in the midst of being formulated. 
Mr. Powell started at the school in 1997 after moving from Austin Texas to Saint Petersburg with his wife to be closer to her father. "I wasn't looking for any work because I said I was going to take a break," Powell said in an interview with me, "but my wife wanted to go to the employment office to get a job. As we were going down 5th avenue, we saw a big sign outside the school saying "Help wanted in the Kitchen ". So we pulled in and she interviewed with the kitchen manager, and the next thing I know I got a job in the kitchen for 4 hours". Powell and his wife split the 8 hours between each other and worked on a lunch cart in the Media Center. "I was throwing papers for the St. Petersburg Times in the morning. I thought I could put some more work on, that I could do that". Powell hadn't known about the job at St. Pete High beforehand, but after adding the hours, panned to "throw papers, get here at 6, be out by noon". As the job progressed, he found multiple opportunities to move into new positions. After an administrator noticed his engagement with students and offered him a position as a teacher's aid, Powell realized he had "opened a door, [and ] I'm gonna go through it", as he took a position in the ESE Department. From there, he transitioned to campus monitor after working diligently with ESE students.
When he started, Powell says the biggest issue "was probably gangs, because we don't know if they have weapons, they get in a bunch, and they would have fights all the time, all over campus". Powell says it took him roughly "4 years" to have the gang violence on campus consistently decline, but remembers 2001, one of his first years, in particular. "[…] they stuck every behavior on the southside in Saint Pete high. I mean any problem you had at Lakewood, Gibbs, Bogie, they brought them to Saint Pete High. You had Blue shirts, Red shirts, Orange shirts all over campus, the shirts showed their gangs. It was unbelievable. We had chicken wings in the bathrooms, fights over here, fights over there. Finally, the county realized they had dropped a big nasty bomb on St Pete High and started trickling them out of here. But can you imagine, you had kids from Bogie, from Lakewood already in neighborhood fights, and now they are all on campus." After a particular incident with a gun on campus, he believes the county finally realized they had created an issue and started dispersing problem students across the county. "Now," Powell says, "I am mostly dealing with normal behaviors. People who don't want to go to class, or have a problem with teachers, I have to mediate kids with what they are here for and what their goals are. I've been successful, now it's got easier because of the kids who I mentored over the years, their kids are coming to school here. Those parents are letting their kids know that "I went to school here, Mr. Powell took care of me, you respect him". That made my job easier. Being here long enough that kid's kids are going to school here, that makes my life a lot easier". Thanks to the sheer amount of time he has spent on campus, the numerous lessons he has passed down have made the job much less strenuous and much more enjoyable.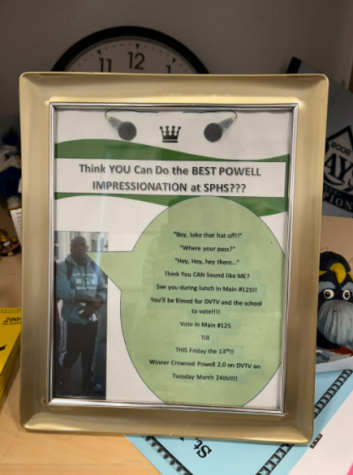 Being at one school for so long brings with it its own unique problems. When asking about interactions with former students outside of school, Powell immediately remarked "I can't go anywhere […]  South Tampa, St. Pete, "hey Mr. Powell!". There is nowhere in Florida I can't go! I go to Orlando and somebody that went to St. Pete High is there. It's amazing. They ride by the school, see me on my golf cart, honk and holler "Mr. Powell!!". It's crazy!". Names are another issue. "It takes me a while [to remember names]. Now they have to pull out the picture and show it to me to go "oh yeah, I know this guy". Or I could be in the mall and this guy looks to be about 33, long dreads, looks like some big-time drug dealer yells my name and the whole store turns to look at me, "this guy? Why you calling this guy's name?". It takes me a minute when they say their name, and I try to play it off and say "oh yeah I remember you!". But it gets to the point where I tell them "I've been at St. Pete for a long time and I've seen a lot of kids, what year you was there?". It's amazing. I have teachers here who went to school here who I knew then."
Over his years, Mr. Powell has amassed "so many stories", he could fill a library. One of his favorites involves one of his favorite traditions as well, the St. Petersburg High Devil Head in the school's front hallway. "Everyone [used to go] around it. It's been like that for so long, and this new generation doesn't know about it and I have to jump in and tell them the story around it. It's amazing how that works." He recalls how "about 8 years ago […] student pranks were big around here. One prank some years ago was to put 7,000 crickets in the junior courtyard. Someone went out and actually bought it! What happened was, to get in, a student cracked the window on the 1st floor, and their whole crew came in. In the front hallway, on a cabinet, we had a light and a camera pointed at the devil head. As we watched the film, they had their faces covered, but they all walked around the devil head, so we knew for a fact they were st Pete high students. We got to looking closer, and then I noticed they all had the same sweatsuit and tennis shoes. I had seen them before, and come to find out,  I realized the girl's soccer team has that same stuff on. So I went to coach Ruiz, and he said they were his kids. It's great how we figured that out just by watching the devil head. Nowadays, kids are just walking over it, they don't know the tradition." Powell hopes that with tools like Devil Vision and senior involvement, the tradition around the Devil Head can return. 
Sadly, after 24 years, it is time for Mr. Powell to retire at 62, but for good reason. "My mom had a partial handicap since 8 years old. She got pushed off a cotton truck, they were going to pick cotton, and they were playing on the back of the truck and she got pushed over and hit by a bus, so they put a plate in her leg, but I am here now because I knew she was in good hands when I left. I talked to her in August of 2021, and as soon as I got off the phone with her she had a slight stroke. My sister, who was then taking care of my mom, said that she needs some help. My sister was kinda getting kind of burnt out. So I told her, she had been doing it for 24 years, it's time for me to come home and help with my 80-year-old mom." Now is around the time Powell intended to retire regardless. "I really wanted to retire at 65," he says and insists that "if it wasn't for that I would still be here loving Florida and loving St Pete High. I wouldn't have another job". "This school embraced me, it's my family, these kids are my kids. I'll bend over backward for them". 
This commitment and care for students is extremely evident; Mr. Powell's impact and performance on the job has been noticed by hundreds across the campus today. IB senior Ilan Kohan describes him as a staple of the school, going so far as to endorse a mural of his face on a school wall as a good idea. Senior Diego Fernandez understands he is leaving for the best and will miss him dearly. Amy Archbold, a senior and football cheerleader, describes him as a school legend, whose support at football games was "unmatched". Like many, she says that she will always have a "remember when Powell" story to share with friends and at reunions. Seniors Javari Robinon and Ar'leyn Brown describe Powell as "the campus monitor" and know him as someone who is integral to St. Pete High. The news was a shock", but Javari says she will always remember the "mean girl" nickname Powell gave her.  Younger students, like 9th grader Ben Cubito and 10th grader Addison Wick, who have not had as much time with Powell, still know him as someone who "has my back" and as a "funny" character on campus. Addison hypothesized that "people will still make fun of his voice" something that Powell enjoyed greatly. "My wife […] sometimes thinks it's her husband!" he said, and will always appreciate a good joke or imitation at his expense. Someone who takes Powell's retirement as anything but a joke is Ms. Lebo. She describes Mr. Powell as someone who is "going to be missed, very sorely missed. He has an uncanny way of knowing everything going on on campus. He knows students, he might not know all of their given names, but he's got nicknames for students across our campus. Yeah, he yells at ya, he tells you to do this, tells you to do that, but he does it because he cares about kids". She knows he considers our school a "second family" and intends on doing everything she can to make him feel loved on his way out. 
Powell's gratitude to the school, its students, and its staff has been on his mind for months. For students, Powell wants to stress that "Now comes a lot faster than you know it. If you don't buckle down, oh man. For freshmen it's very important you get all your credits. Sophomore year it's the same. By the time you are a junior, you may be slackin', by senior year you may only be coming bout half the days. Four years seems like a long long way, but it comes really really fast. So buckle down, do what you got to do, and it makes it a lot easier when you getting ready to go to college". And for the staff, Powell wants them to hear that he "appreciate[s] all of [them], from Ms. Lebo all the way down to Bruce. They'll get a kick out of that!"
Mr. Powell, from the bottom of our hearts here at St. Pete High, thank you very much for your commitment and love for our school, your school. We wish you and your family all of our best. 
For the entire transcript of the interview with Mr. Powell on his time and remembrance of St. Pete High, please search "Interview with Mr. Powell" on the Palmetto and Pine website.
View Comments (2)