Taylor Swift and Her Impact on Rising Musicians
"She's like the king of her craft," says indie-rock musician Phoebe Bridgers in an interview on Charli XCX's podcast, Best Song Ever, when asked about her favorite Taylor Swift song. "She's just a perfect example of someone who uses all the resources at her disposal to be completely genuine." Bridgers is featured on the track "Nothing New" from Swift's re-recorded album, Red (Taylor's Version). She will join Swift on her record-breaking Eras Tour, which kicks off in March. She is among nine other artists that have caught Swift's eye (well, in this case, ear) that will also be opening for her, including Paramore, beabadoobee, girl in red, MUNA, HAIM, GAYLE, Gracie Abrams, and OWENN. Even before the announcement of Swift's extremely anticipated tour, these artists expressed their adoration for Swift's music. It is not a coincidence that Swift and her ground-breaking music inspire so many up-and-coming artists. Swift's diaristic lyrics and consistent relatability with her fans built her colossal career, encouraging them to start making and writing their own music.
For example, singer-songwriter Gracie Abrams said, "[it] truly means so much to me and to so many young writers and artists having grown up with her music. Like I think that she is, for me, one of the blueprints for vulnerability as a young woman." Abrams, the daughter of another iconic storyteller, JJ Abrams, has stated that Swift was her primary inspiration for beginning to write songs. Many other artists, such as English pop singer-songwriter, Maisie Peters, share this sentiment. Peters said in an interview with Insider that Swift is "formative in everything [she makes]." Swift's influences on these artists can be seen in their detailed, honest, and heart-crushing lyrics. Last year, indie pop band MUNA released a live EP recorded at the famous Electric Lady Studios, where Swift frequently records with longtime collaborator Jack Antonoff. This EP included a MUNA cover of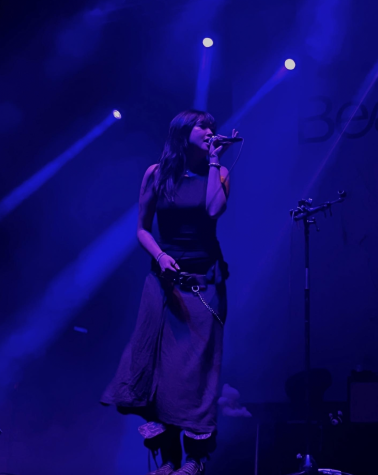 Swift's dreamy, guitar-filled ballad, "august." Following this, when asked about their song "Kind of Girl," drummer Naomi McPherson explains, "[that] one came at what will retrospectively feel like a pretty pivotal point for us. We wanted a kind of Swiftian, middle-of-the-album, heart-wrenching track. That kind of track-five moment." On all of Swift's albums, track five is always an emotional, vulnerable masterpiece and has become something fans anticipate when she releases a new album.
Swift's impact on future generations of musicians is most present in their raw and genuine lyrics. Recent pop sensation Olivia Rodrigo has famously been a fan of Swift for over a decade. She even went as far as playing the piano part from the final track on Swift's album, reputation, "New Year's Day," as an instrumental for Rodrigo's song "1 step forward, 3 steps back." However, while Rodrigo's clear inspiration for Swift's music has been criticized as not being original, it is undeniable that the world cannot escape Swift and her unbreakable grasp on the music industry. 
Other artists inspired by Swift are Conan Gray, Kelsea Ballerini, Soccer Mommy, Troye Sivan, The 1975, and Florence + The Machine. Swift's influences on the music industry and new artists cement her as one of the most critical, pivotal, and iconic musicians of all time. Her profound impact on musicians will guarantee that her music lives on in our culture for a very, very long time.
Leave a Comment