SPHS Double-Athletes: Stella Monforte
Participating in school sports can be very challenging, whether it concerns time constraints, physical demands, or other difficulties. Balancing sports practice, homework, and a social life can cause stress for many student-athletes who are unable to manage their time successfully. However, some students still go above the expectation and take on the challenge of being a double-athlete. 
Stella Monforte is a 17-year-old senior at St. Petersburg High School. Stella is the captain of the varsity football cheer team and a competitor on the varsity cross country team. She joined the cheer team due to her background in dance and has been a cheerleader since freshman year. When entering her sophomore year, Stella joined the cross country team because her brother, Hector, had been a member in the years prior. 
Football cheer and cross country are both fall sports, meaning they overlap. Cheer practices are mostly Mondays and Tuesdays, with games on Fridays. Cross country practices are every weekday after school–omitting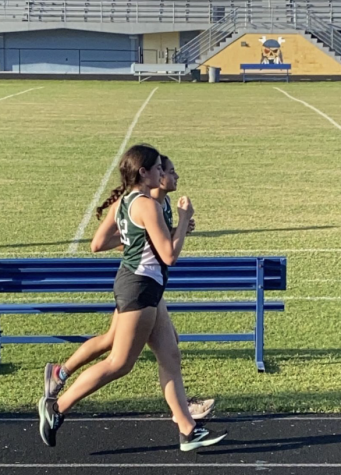 Friday– and Saturday mornings. This is followed by Saturday morning meets as well. To balance the overlapping practice schedules, Stella maintains a consistent weekly routine. On Mondays, she attends cheer practice exclusively. However, on Tuesdays, she goes to both cheer and cross country because of the back-to-back practices.
Alongside the frequent practices, games, and meets, Stella also has a constant workload from her classes. She manages her time between sports and school by creating to-do lists at the beginning of every day. She regularly does her homework during school to lower the amount of work she has to do at home. By following these to-do lists, she is able to make time for other activities besides sports ad school, such as hanging out with her friends.
Despite the loaded schedule that comes with being a double-athlete, Stella loves doing both sports because of the friends she has made from both activities. She also claims she wants to make the most of her senior year by continuing these sports!
Leave a Comment