A Day in the Life of a Sailor
6:30 am. That is the time Dorothy Mendelblatt wakes up for her Sailing Regattas. She usually drinks a coffee and eats an omelet with toast. Her base layer for clothing is leggings and a tech shirt; she waits till she gets to the regatta to put on her gear. Dorothy typically drives herself and her twin brothers to the sailing center so they can rig the boats. Dorothy sails a 420 with her crew, most recently, her brother Adam.
On the 21st of January, I attended the South Points 5 at USF St. Pete Regatta. It was an overcast, windy day, nice for the sailers, less so for the spectators. On this day, Dorothy was sailing boat number 17 with Luke Dluzneski, another St. Pete High junior on the sailing team. Watching the various boats out on the water can become overwhelming. With two separate heats and trigonometric eye tricks, it is hard to tell which boats are winning and which are falling behind. Despite my limited knowledge of sailing, I was reassured that "Dorothy was sailing a good regatta."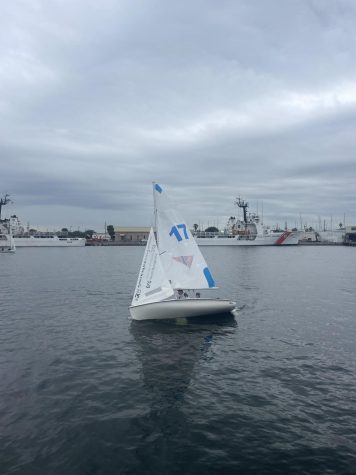 It shouldn't come as a surprise, as Dorothy has previously sailed for the Youth US Team. She has had the opportunity to sail in many places around the world, such as The Hauge, Palamos, and Nassau. Dorothy sailed in 13 races that day, starting at 10:00 and ending at 4:30. She never left the boat except to eat lunch. When I talked to Dorothy from the dock in between her races, she discussed what she believed she could have done better. Despite this, she ended the day in 2nd place, an amazing feat, considering I overheard many coaches talking about other sailors who were already committed to schools such as Harvard and Yale.
After the races, she sailed back to the St. Pete sailing center to disassemble the boat. After this particular regatta, Dorothy went to Laser tag with her team for the senior celebration. Later, she had chipotle, her "favorite thing to eat after a regatta."
Leave a Comment